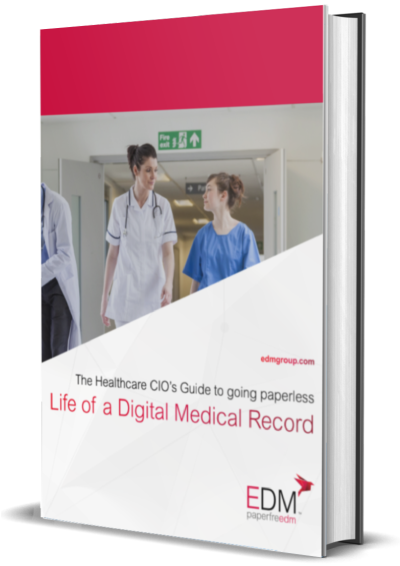 The Healthcare CIO's Guide to Going Paperless: Life of a Digital Medical Record
The time for healthcare organisations going paperless is now. We've put together this useful guide for CIOs to help kickstart the digital transformation of their medical records and provide insight into the lifecycle of digital medical records.
Currently, only a small number of NHS Trusts have gone digital with their medical records. The rest, however, are still having to go through the physical and manual process of managing and maintaining their large medical record stores - which is not without its challenges. Some of the biggest challenges can be down to simple human error and could result in misfiled or lost records, which in turn leads to more serious problems such as compliance violations.
Download the eBook and learn:


The challenges for CIOs, CFOs and Operations Personnel within the NHS
How digitisation can help reduce costs, improve operational efficiency and increase productivity

The six lifecycle stages of a digital medical record

And more
Fill out this quick form to download your copy of EDM's eBook >>
Download Ebook